Thank you all for helping make the 2016 Nehalem River Ranch Feast a success! We were blown away by how amazing all of you are, and so grateful to have such a supportive community of friends and customers and to be part of such a vibrant local farming community.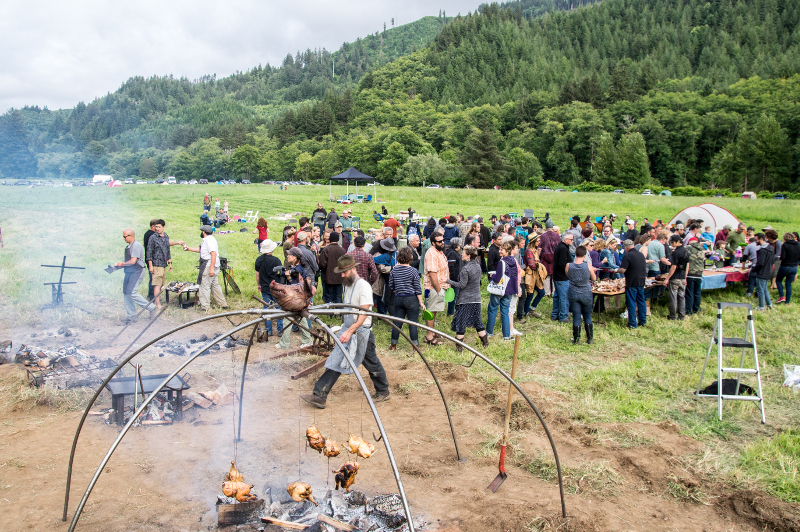 This event was our attempt to create something amazing and give back to you all, and we hope you thoroughly enjoyed yourselves.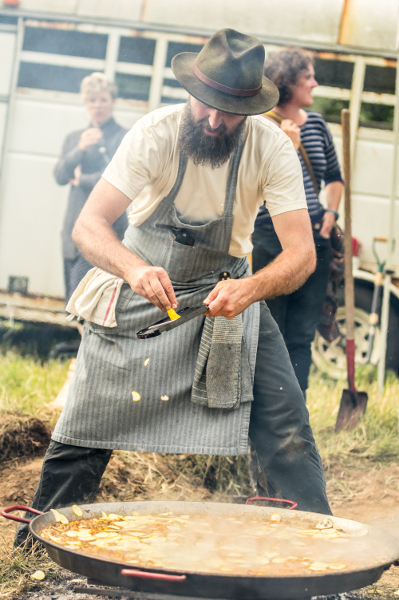 We'd like to give special thanks and recognition to a number of people who specifically made this event possible through their hundreds of combined hours planning, prepping and orchestrating the food.
In particular, Jaret and Mona from Tournant have been super amazing to work with. They coordinated the menu, sourcing the freshest and most local ingredients possible from as many farmers as we could pull from. They also brought some amazingly talented friends along too and we all benefited from Connor and Joe's culinary skills and a number of others who showed up day-of and helped pull off many of the finer details. In addition to farm-to-table dinners they can cater many types of events. For those of you in the Portland area Tournant opened up a new cafe this week. They also do a first Friday oyster social that is out of this world. Follow them on facebook here.
Shimron from Nephtali's Catering was largely behind the scenes, managing Nehalem River Ranch's new wood fired oven in order to produce amazing crackers and breads, popping in to the main roasting area toward the start of dinner to deliver delicious fry breads. Shimron is an old, dear friend which only slight biases our praise of his skills which grow from cooking alongside amazing chefs at Nostrana and A Cena in Portland and being classically trained as a chef in the Mediterranean and Middle East. He also caters weddings and events so make sure to reach out.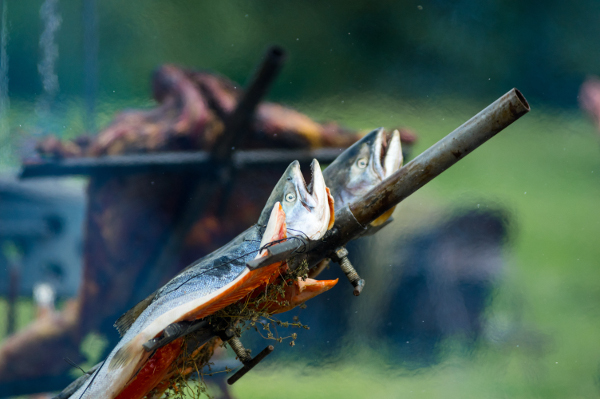 You may remember the steer roasting equipment he designed for our event with North Fork 53 last year. Sam from Del Fuego Ironworks brought his design/build/weld skills again in amazing and fun ways, including some new equipment and our favorite standbys: the chapa and iron crosses. In addition to grilling equipment Del Fuego Ironworks also makes great custom furniture combing wood and metal.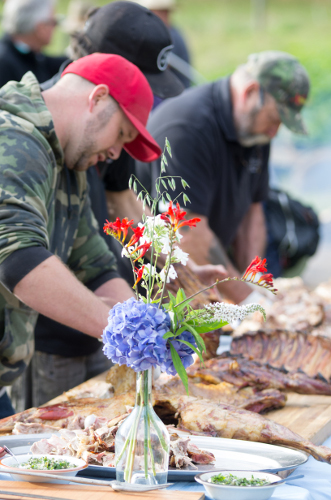 Tillamook Meat graced us with their skills again, cutting and serving pork and lamb as it came off the fire. Their speed and skill were a delight to watch and now our ranch customers have been able to see them in action. We are very pleased with their service, skill and consistency in our go-to slot for all our on-farm mobile slaughter and custom beef and pork share butchering. Follow them on facebook here.
In addition to the local businesses listed above, many others came together to pull off this even. In particular Ian, Zeke, Marie, Dillon, Meaghen and Michael. You all were amazing, a blast to work with and some of the hardest workers we have ever seen. Those who volunteered, helping lighten the load and keep the pastures debris free were also very much appreciated. Thank you all!
We also want to acknowledge our awesome
White Clover Grange
which provided tables for the buffet and prep areas, and
CARTM
, our pioneering recycling center that provided supplemental plates, silverware and glasses for those who couldn't bring their own.
Thank you again for joining us at the 2016 Nehalem River Ranch Feast! We hope to see you again soon!
-Jared and Hilary